Sign up For Private Lessons Today!
(2) one hour lessons for $160
Private Lessons
$85/ hour  or
2 hours for $160 (Save $10)
Contact us  & let us know your availability. Contact Us
We offer weekday & weekend lessons.  A motorcycle & helmet are provided (if needed).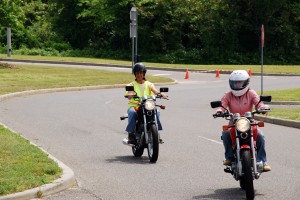 Lessons are one hour in duration, with a 1:1 student/instructor ratio, and are tailored to the individual student's skills and ability. Lessons are given on the school's motorcycles, which are small, light and rider-friendly 250cc Hondas. D.O.T. approved helmets are also provided.
Lessons can be given on a students personal motorcycle if preferred. 
Ask us about house call lessons!
New student instruction begins with an introduction to the motorcycle; hand and foot controls, center of gravity, and body position. The controls are introduced and practiced in a methodical, controlled manner. The student is then instructed regarding the core techniques he/she will employ while riding. These techniques are derived from widely accepted riding practices and from the personal experience of our instructors' collective century of riding experience.
In addition, some methods are taken from the Police Motorcycle Officer training program, which produces the most proficient motorcyclists in the country.
Students will learn proper starting, stopping and turning techniques; low-speed handling and road speed cornering; and defensive riding practices which are unique to a two-wheeled vehicle. If time and rider skill allow, the student may also have the opportunity to learn more advanced maneuvers as well.
Student needs to have a valid Motorcycle Permit.