Steve – Owner & Instructor
Rider, racer and lover of motorcycles for over 50 years !
I really enjoy sharing my passion and experiences with our students and staff.
Helping students of all ages, from beginner to experienced, get on the road to a FUN and safe motorcycling experience is what we do!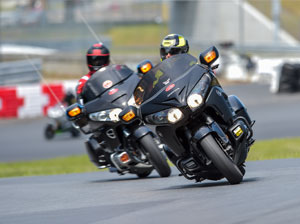 Manna – Site Manager & Instructor
MSF Certified RiderCoach Manna enjoys riding all things 2 and 3-wheeled. She enjoys experiencing different facets of motorcycling at every opportunity. Helping riders achieve their goals is her passion, whether it's first learning to ride or preparing for a cross-country trip. Manna currently rides a Honda CB750 Nighthawk and a Honda GoldWing F6B.
Patti – Site Manager & Instructor
MSF Certified RiderCoach
Patti currently rides a Yamaha R6 and Yamaha R3.
Her background in education allows her to combine her passion for teaching with riding.
Tom – Site Manager & Instructor
MSF Certified RiderCoach; USMCA Certified Coach, Sport Bike 
Tom currently street rides a Honda CBR1000RR ("Fireblade") and a Ducati ST3, and coaches track on a Ducati 748r. He loves all aspects of motorcycle training, whether you are a newbie nervous to get your feet up, a seasoned rider looking to improve street riding, or a track rider looking to drop lap times. Tom is a lifelong learner of all coaching, especially in motorcycles. He has a podcast called "The MotoCoach". He would love for you to reach out to him to say hi, or recommend topics for the podcast.
MSF Certified RiderCoach I've been teaching since 2011, and it only keeps getting more enjoyable. I love all things relating to film and racing on two or four wheels. I am continually studying and training to be a better motorcyclist, a successful stuntman, and a safer street rider.
Check Me Out On IMDB >
MSF Certified RiderCoach Antonio is one of our certified BRC and Private instructors. He has been riding for about 40 years and has experienced dirt bike racing and drag strips. Antonio also holds a Police motorcycle instructor certificate and has helped in developing the skills of Police motor officers. He enjoys teaching and brings a toolbox of knowledge, which he uses to get the best out of each student.
MSF Certified RiderCoach Billy  has been teaching since 2000. He enjoys working with new students and helping them learn to ride.
MSF Certified RiderCoach Chuck has been riding Motorcycles for over 30 years. His journey on two wheels started while serving in the United States Navy and stationed in Naples, Italy. Chuck has enjoyed riding all over Europe, and Road Racing in the United States. He has a passion for teaching and looks forward to giving back to the motorcycling community. He currently rides a Ducati 916.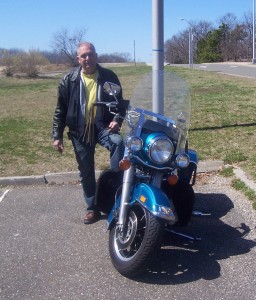 MSF Certified RiderCoach Dean first learned to ride on the dirt mountain roads of Colorado. He currently rides a Harley Davidson Electra Glide. Dean has been riding for most of his adult life, and has taught hundreds of new riders, as well as helped fine-tune the skill of experienced riders. He is serious about safety and is dedicated to helping students avoid the pitfalls common to new riders.
MSF Certified RiderCoach Jerry has been riding since he was a teenager, and has the skill to flick an 800-pound Gold Wing around like it was a bicycle! He enjoys making the learning experience fun for his students. He has taught hundreds of new riders, with patience and enthusiasm.
MSF Certified RiderCoach Jerry has been riding for 50 years. She has ridden in New Zealand, South Africa, Morocco, Italy, Spain, France, Switzerland, Austria, Greece and Croatia plus New York to Seattle and back. Jerry became a rider coach 20 years ago to give back to the riding community, to help them learn the basics the correct way and help them realize a dream.
MSF Certified RiderCoach & Private lesson Instructor, Kathy has been riding for 10 years. She rides a ducati monster, a custom 1200 Harley Davidson 48 sportster , and her newest addition is the hd lowrider S!
MSF Certified RiderCoach Layla has been a motorcycle riding instructor for 22+ years and has taught at various MSF locations in New York, New Jersey, and Nevada. Before becoming an instructor, she was an editor and journalist for various publications, including motorcycle magazines, which led to her drag-racing Harley-Davidson Sportsters. Having over 30+ years of riding experience and involvement in the motorcycling community has given Layla a variety of techniques to personalize her teaching methods to fit each student's individual needs. Layla enjoys sharing her love of motorcycles and learning, as well as her commitment to safety and reducing risk, with her students. She currently rides a 1993 HD Sportster and a 2020 HD Low Rider.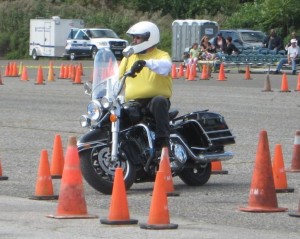 MSF Certified RiderCoach Matt currently rides a BMW 1150rt. He has toured the East Coast on this bike. Matt is patient and thorough with both new and experienced riders, and studies motorcycling at every opportunity. His specialty is in putting the nervous new rider at ease, so they can learn and ultimately enjoy riding.
MSF Certified RiderCoach Matt has been riding for about 15 years and began his journey by taking the BRC. He is an expert level track rider and coach, enjoys mini-bike racing, is an avid MotoGP fan, and is also a Police Motorcycle Instructor. His goal is to help new riders find the same passion he has for motorcycling, and to remind us all that no matter how long we've been riding, there's always something new to learn. 
MSF Certified RiderCoach Mike
An avid motorcyclist through and through, Mike has been riding on and off road since the age of 14 as well as competing in off road racing. Mike wants to share his enthusiasm for motorcycling with his students, and help them become the best rider they can. He currently rides a Triumph Street Triple R and a Yamaha YZ250F
MSF Certified RiderCoach and Stick Shift Training Instructor Peter is a  graduate of the Basic RiderCourse many years ago. Peter enjoys "paying it forward" and coaching students from all walks of life — whether it's on a motorcycle or in a car, where he also works as a driving instructor. He currently rides a Royal Enfield Himalayan dual sport motorcycle, and has a vintage Honda that he's been tinkering with forever. He is passionate about teaching and learning, and enthusiastically looks forward to helping anyone with a desire to learn.
MSF Certified RiderCoach Raphael has 30+ years of riding experience and is a r
etired motor officer for the NYPD Highway Patrol, and he's also an NYC Paramedic.
His hobbies include 2-wheel adventures internationally and domestically, and photography. "My passion for motorcycle riding is one I enjoy sharing with others." 
MSF Certified RiderCoach Rob Bellassai is an accomplished motorcycle rider with more than 45 years of continuous riding experience on multiple brand motorcycles and began MSF teaching in 2005. Rob is NYS MSF certified to teach IME, BRC, BRC2 and ARC riding courses.
His motorcycling career includes more than teaching and has held other positions in the motorcycle industry. They include Factory Demo Rider for Honda and Suzuki, Education Chapter Director for the
Goldwing Road Rider's Association (GWRRA) and featured speaker since 2008 at the annual Americade Rally held in Lake George NY.
MSF Certified RiderCoach Rob has been an instructor/rider coach for over 20 years! He enjoys using the skills and knowledge he's learned during that time to help our students learn all aspects of the courses he teaches. Riding back roads in the tri-state area, with trips as far north as Nova Scotia and south to North Carolina are some of his favorite motorcycle adventures.