This course is held at our Suffolk location in Selden, NY
$150
A motorcycle is NOT provided! You must bring your own motorcycle with a valid registration, inspection sticker, and proof of insurance. You must already posses a motorcycle license. If you need to get your motorcycle license but have already been riding on the street for a while, please see the BRC2 License Waiver Course Page.
———————————–
After registering for an available class above make your payment here:
———————————–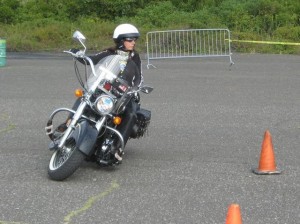 This 5 hour course is designed for riders who already have the motorcycle license and possess basic necessary skills to operate a motorcycle on the street. It consists of only riding exercises and does not include classroom-type instruction or a skill evaluation. It is a perfect way for you to reinforce essential skill on your motorcycle particularly in evasive maneuvers such as braking and swerving, low speed maneuvers for traffic and intersections, and cornering techniques for street situations such as entry speed evaluation and cornering stability. As an option, you may take the motorcycle license skill evaluation, as this is an excellent opportunity to self-assess your learning. 
You will receive a special Skills Practice completion card. Insurance discounts may be available with proof of completion, check with your insurance carrier! Other organizations may provide discounts when you show them a skills practice completion card. Inquire with individual vendors in your area.
RIDERCOURSE CANCELLATION AND REFUND POLICY for BRC2 Skills Practice
At On the Road Again, we want everyone to have a good experience learning to ride.
Please read the following carefully to make sure you are aware of the circumstances that will cause you to forfeit your enrollment fee, and be unable to complete the course.
Learning to ride is physically demanding; if you are unsure of your abilities, please call our office at 631-862-7433 and speak to a representative.
If a student cancels their enrollment in a class with more than 7 days notice, tuition will be refunded an amount less $10 or 10 percent of the total, whichever is greater, specified cost of the course or other such prepaid service. On the Road Again can be notified by e-mail at Info@lrn2ride.com, or by mail to P.O. Box 481, Selden, N.Y. 11784. Cancellations by phone will not be accepted.
If a student cancels with less than 7 days notice but before the day of the class, tuition will be refunded less a $40 fee.
If a student cancels the day the class begins, after class begins or doesn't show up, there will be no refund.   No make-up will be scheduled.
If a student fails to attend all scheduled classes and any makeup classes that may become necessary due to uncontrollable conditions (such as weather) there will be no refund. If makeup classes become necessary, we will attempt to schedule them at the student's convenience.
If a student fails to bring required riding gear (sturdy, over-the-ankle footwear, long sleeved shirt or jacket, Long non-flare denim pants /jeans or material of equivalent or better durability (without rips or holes), and full-fingered gloves), he/she will not be permitted to participate in the course and there will be no refund.
If a student is counseled out of the class for not being able to achieve the objectives of the range exercises within the allotted time or fails to abide by the course safety and instructional guidelines, there will be no refund.
If a student is believed to be under the influence of either a legal or illegal substance, or does not have the required license and/or permit, or for minors, notarized parental permission, they will be removed from the class and there will be no refund.
On the Road Again reserves the right to change the class times as necessary due to emergency situations (vehicle breakdowns, Acts of God, staff emergency, etc.)
THANK YOU FOR CHOOSING ON THE ROAD AGAIN!